The Group: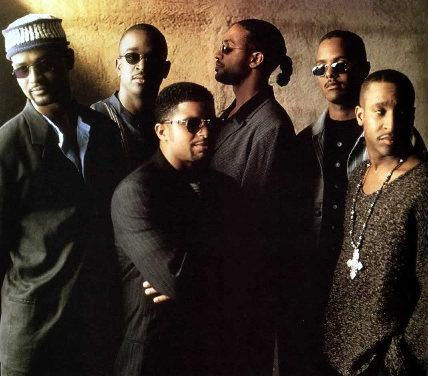 This award-winning Christian sextet broke new ground in a cappella in the '80s, paving the way for the popular revival of R&B vocal groups. Their jazz harmonies, original songs and vocal pyrotechnics represent some of the best a cappella ever recorded.
A few years back, I was given a copy of this song: "Lift Every Voice and Sing" (Stream It Here) and was told it was by the group Take Six. The digital track was labeled: "Take Six - Lift Every Voice and Sing (no artist)"
Since then, I've tried - Not too hard - to locate the CD/Album that this song came from so that I could purchase the entire album. To no avail- It's a beautiful and inspiring song and like most "anthems" is laden with baggage, hope, strife, struggle, faith and emotion.
The Origins: The song was written by James Weldon Johnson -The year was 1900 and Johnson was a school principal in his hometown of Jacksonville, Fla. He was asked to speak at an Abraham Lincoln birthday celebration, but instead of speaking he decided to write a poem. With time running short, plans changed again and James asked his brother, music teacher J. Rosamond Johnson, to help him write a song.........
The rest of the story- Well, you know the big parts. But here's an educational podcast on NPR: Follow this link Click Here; which should inspire, educate, and summarize the journey of this song from an idea to a poem to a song to a part of our American History.
The links on this subject:
Take Six Review: by GospelGal.Com
If you know any more details about the Take 6 (or not) version I'd love to hear from you.
As they say on NPR... "Thanks for Listening"